AMERICA'S SWEETEST RUN IS BACK! The Allstate Hot Chocolate Race!
This 5/10/15K run and 2-Mile walk is enjoyed by so many – runners and spectators alike – and will be held this Sunday, November 5, 2023!
Oh. And there's CHOCOLATE, of course. I mean, who wouldn't want to be part of such a fun event? Registration is closed and runners are warming up for the big run!
WHERE: Grant Park – 301 S. Columbus Dr, Chicago
WHEN: 5K, 10K, and 15K run start time: 7:30 am
2-Mile walk start time: Approximately 8:45 am
About That Sweet Hot Chocolate Run
The first Hot Chocolate event took place in 2008 in Chicago. Three years later, the series expanded to more cities across the country for the first time. Today, the Hot Chocolate Series consists of 19 live events across the country and a virtual event so runners from across the world can enjoy the Hot Chocolate run experience.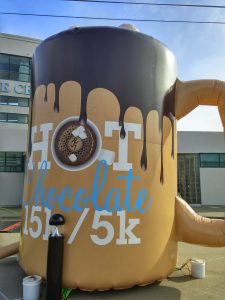 Fun fact: Since 2008, over 200,000 runners have participated in Hot Chocolate Runs across the country!
Other Hot Chocolate Happenings
In addition to the big run on Sunday, there are other related events:
Friday, November 3, 2023
12:00 pm – 7:00 pm
Saturday, November 4, 2023
10:00 am – 5:00 pm
There is a Hot Chocolate Expo, which is free and open to the public. Runners can pick up their kit (including their race day swag and bib!), indulge in delicious CHOCOLATE, gear up on Hot Chocolate merchandise, and visit exciting vendors!
After the run on Sunday, November 5:
A 'post-run party' will be held at Grant Park, where folks can celebrate in one of Chicago's most scenic parks with live music, vendors, and a Chocoholic finisher's mug full of fondue, dippables, and hot chocolate.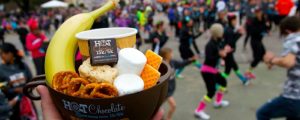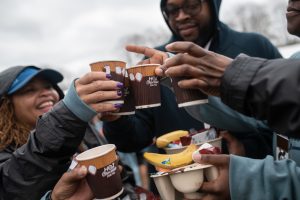 Planning ahead? Below is the schedule for other upcoming Hot Chocolate Run Events!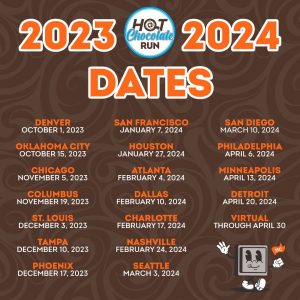 For more information about the Run, click HERE.
Runners' tips
Here are some sweet helpful tips from the Hot Chocolate Team!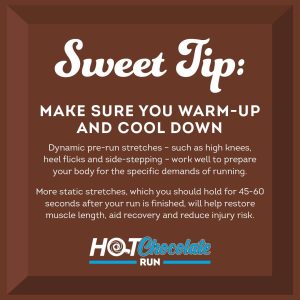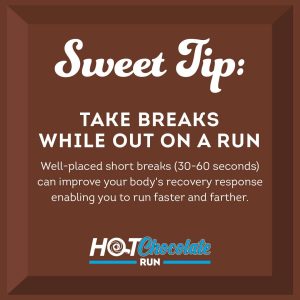 When heading to the Hot Chocolate Run, the last thing that you want to think about is driving, parking, and hustling to the event site. Let Fellowship Fleet Limousine and Bus Company take you and your run partners! Make a reservation HERE!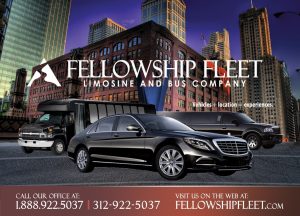 !