There are some things that are uniquely Chicago's. A clear and traditional native is DEEP DISH PIZZA!
Oh, Chicago is proud of its deep-dish (sometimes called stuffed) pizza. It is baked in a round, steel, high-sided pan or skillet that resembles a cake or pie pan shape. The dough is pressed up onto the sides of the pan, forming a basin for the pizza fillings: goodies such as a thick layer of cheese, rich and chunky tomato sauce, and layers of toppings such as Italian sausage, pepperoni, mushrooms, onions, and all other traditional toppings. Topping the entire pizza is a layer of pizza sauce. YUM.
The pizza 'pie' is built differently and takes longer to bake than a thin-crust pizza, due to its thickness. The pizza sauce tops the pie in order in order to keep the cheese from being scorched.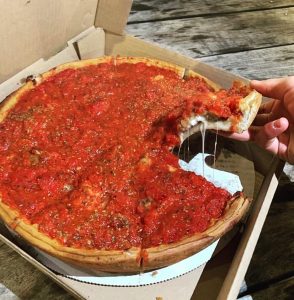 Who created this unique pie?
Well, there are two sides to this story! Agreed -upon facts are as follows: 
Pizzeria Uno was the first restaurant to serve it, in around 1943.
Pizzeria Uno employed Ike Sewell and Rib Riccardo.  Adolpho "Rudy" Malnati, Sr. was also an employee. 
From here, the facts are unsure. Some claim that there is little evidence of Sewell or Riccardo spending much time in the Uno's kitchen, and that Malnati came up with the idea and recipe for deep-dish. Others have said that the creation evolved from ideas of Sewell and Riccardo.
Many tend to lean towards Malnati, one of Uno's longest and most loyal employees being its creator.  Malnati later managed Uno's with his son, Lou, until his death.  In 1971, Lou separated from Uno's to form the infamous Chicago staple, Lou Malnati's Pizzeria!
There is little concrete evidence on the creator.  Chicago and pizza historians alike have spent decades on the case, but so far, no one has been able to get to the bottom of this endlessly deep mystery.
Regardless of who created this heavenly dish, what is certain is that it will be around forever! 
What are some of Chicago's deep-dish favorites?  (Click to visit their websites)
Lou Malnati's                                  Pizzeria Uno                               Giordano's
You don't want to miss the opportunity to enjoy this treat.  When in Chicago or major cities that carry deep-dish franchises, let Fellowship Fleet Limousine and Bus Company help complete your journey with a visit!  Click HERE to book your travel!