Downtown Chicago will welcome, for the first time ever, a full experience of NASCAR racing on its streets, July 1-2, 2023! There is no better city to showcase this unique event, as Chicago puts another notch in its belt by welcoming such an incredible and exciting event near Lake Michigan and Grant Park.
The two races to be run (July 1 – Infinity Series and 2 – Cup Series) will be surrounded by music and entertainment for all ages, truly making it one of the signature sporting and entertainment events of the year.
The Loop 121, the Xfinity Series race, will take place on Saturday, July 1 at 4 p.m. central time.
Grant Park 220, the Cup Series race, will take place on Sunday, July 2 at 4:30 p.m.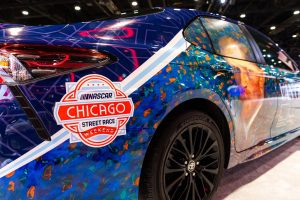 Where will the NASCAR races be run?
Lake Shore Drive, Michigan Avenue, Columbus Drive and select surrounding thoroughfares are being transformed into a 2.2-mile street course with 12 turns.  The start/finish line and pit road will be located along South Columbus Drive directly in front of Buckingham Fountain.
Drivers will go counter-clockwise on the course with time spent on DuSable Lake Shore Drive, Balbo Drive, Michigan Avenue, East Congress Plaza, and Jackson Street.
The course will pass through the famed Grant Park, and also approach the northern edge of Soldier Field, one of the most notable and recognizable sports venues in the country – and the site of the only other Cup Series race to take place in Downtown Chicago, in 1956.
The Musical Performances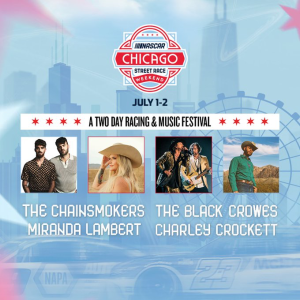 On Saturday, The Black Crowes will perform before the Xfinity Series race with The Chainsmokers performing after the race as the main act of the day.
On Sunday, Charley Crockett will perform before the Cup Series race and Miranda Lambert will host after the race's conclusion.
This historic racing event will be one forever remembered as a first in Chicago.  There is exclusive seating that allows you to see all of the sights and sounds of NASCAR.  THIS LINK leads you to all of the information concerning NASCAR Street Racing in Chicago, including race routes and tickets.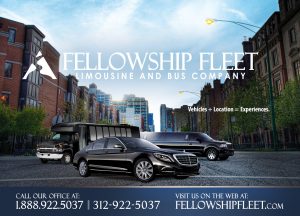 Take off to the races and let Fellowship Fleet Limousine and Bus Company get you there. Need transportation for a group? We can provide that for you!  Click HERE to reserve your transportation for the NASCAR Street Races, or for any other of your transportation needs.