The 4th of July is one of the most widely-celebrated holidays in the United States. On this national holiday, people look forward to a day off, families look forward to getting together for fun and food, and thousands gather to watch parades and huge firework displays at parks and in local cities.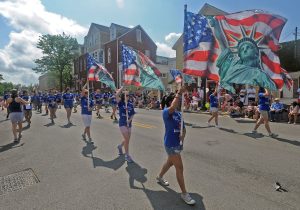 Why do we celebrate Independence Day?
A quick history lesson explains why the 4th of July is even a 'thing'!
July 4th is significant because it is the anniversary of when The Continental Congress adopted the Declaration of Independence.  This historic document, drafted by the Committee of Five (Thomas Jefferson, Benjamin Franklin, John Adams, Robert R. Livingston, and Roger Sherman) and then written by Thomas Jefferson, officially declared the United States of America's independence from British rule.  

The Continental Congress was the governing body by which the American colonial governments coordinated their resistance to British rule during the first two years of the American Revolution. The Congress was comprised of delegates from the 13 American colonies.
On July 4, 1776, the thirteen colonies claimed their independence from England, an event which eventually led to the formation of the United States.  These 13 British colonies became the 13 original states:  New Hampshire, Massachusetts, Rhode Island, Connecticut, New York, New Jersey, Pennsylvania, Delaware, Maryland, Virginia, North Carolina, South Carolina, and Georgia.
Since that day in 1776 to present-day, July 4th has been celebrated as the birth of American independence, with festivities ranging from fireworks, parades and concerts to more casual family gatherings and barbecues. 
Fireworks!
The tradition of setting off fireworks on the 4th of July began in Philadelphia on July 4, 1777, during the first organized celebration of Independence Day. On that day, the ship's cannon fired a 13-gun salute in honor of the 13 colonies, and the Sons of Liberty set off fireworks over Boston Common.
Today, amazing fireworks displays can be seen all across the United States in cities large and small.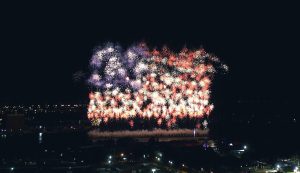 Celebrate!
Celebrations will be held all across the nation.  In Chicago and surrounding suburbs, WGN's link HERE has a very cool listing of all types of events!
Hot dogs, ribs, burgers, corn on the cob, chips, and cold fruits are just a few American favorites for 4th of July bbq celebrations.  Most people enjoy family and friends, and fellowship on the 4th of July!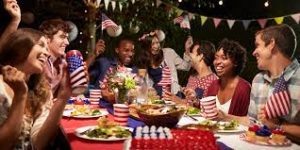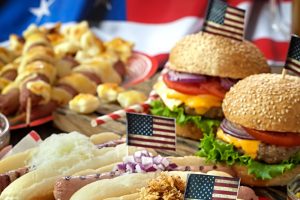 Let Fellowship Fleet Limousine and Bus Company help you celebrate the 4th of July, or for any other day or event when you need quality, comfortable, and professional ground transportation!  We are here to meet your needs. Click HERE to book your reservation today!