As Chicago prepares for the NASCAR Chicago Street Races tomorrow and Sunday, July 1st and 2nd, there are now multiple street and major road closures, traffic diversions, and detours. DuSable Lake Shore Drive, Michigan Avenue, and Roosevelt Road, among others, will be closed for multiple days.

City officials are encouraging drivers to take alternate routes, walk, bike, or take public transportation to reach downtown. As of today, much of the area around Grant Park will be inaccessible to vehicles.

The best thing to do is be well-informed and plan out alternate routes. The start and finish line, and pit road, will be located along South Columbus Drive, directly in front of Buckingham Fountain.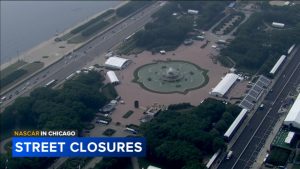 Summary of street and route closures
– Ida B. Wells Drive, east of Michigan Avenue, is closed. This area contains the main viewing areas.
– Columbus Drive is closed between Jackson Drive and Roosevelt Road.
– Jackson is closed between Michigan and Columbus  
– eastbound Roosevelt Road is closed between Columbus and DuSable Lake Shore Drive 
-Southbound DuSable Lake Shore Drive is closed from Randolph Street to McFetridge Drive.
-Roosevelt Road East of Columbus Drive, and northbound Michigan Ave are closed.
-At 5pm today, Friday, June 30th, southbound Michigan Ave between Balbo and Jackson Drives will close.  Northbound Michigan is already closed.
-northbound DuSable Lake Shore Drive will close on Saturday, July 1, at 4 a.m. between McFetridge Drive and Randolph Street as an added safety precaution. Northbound DuSable Lake Shore Drive will begin reopening Sunday, July 2.
For more information, visit nascarchicago.com.
Streets will begin reopening as early as 7 a.m. on Monday, July 3, following the conclusion of the event. All street closures are expected to remain in effect as demobilization of the track wall, fence, and viewing structures takes place. The priority streets to reopen are DuSable Lake Shore Drive Michigan Avenue and Columbus Drive. Other street closures will remain in effect as demobilization of the track wall, fence, and viewing structures takes place. Activity is expected to conclude by Saturday, July 15.
It is not too late to book your transportation with Fellowship Fleet Limousine and Bus Company and let us take you around the detours this weekend. Whether for the NASCAR Street Races or for your other transportation needs, we are here to take you to your destination. Book your reservation HERE, now!