Juneteenth is derived from 'June' and 'nineteenth', and is the day that commemorates the freeing of all enslaved people in the United States at the end of the Civil War.  This blog will take you on a tour of its origination, history, and why it is a true day of celebration.
Juneteenth marks our country's second independence day. Although it has long been celebrated in the African American community, this monumental event remains largely unknown to most Americans.
The History
The Civil War began in 1861. On January 1, 1863, President Abraham Lincoln issued the Emancipation Proclamation:
"…I do order and declare that all persons held as slaves within said designated States, and parts of States, are, and henceforward shall be free."
Many mistakenly think that the Declaration of Independence applied to all states in the U.S.; however, it only applied to enslaved people in the ten states that were still in rebellion: South Carolina, Mississippi, Florida, Alabama, Georgia, Texas, Arkansas, and North Carolina.
In addition, the Declaration exempted Tennessee and portions of Virginia and Louisiana that were occupied by the Union, and slavery also remained untouched in the border states of Maryland, Delaware, Kentucky, and Missouri. Those slaves were freed by later separate state and federal actions.
Also, in the most western part of the Confederate state of Texas, there was a remaining community of slaves that had not yet been freed. 
Well, on June 19th, 1865, Major General Gordon Granger, along with over 2,000 Union soldiers arrived in Galveston, Texas, to announce and enforce the Emancipation Proclamation that had been signed two and a half years earlier.  The 250,000+ remaining enslaved black people in the state were freed by executive decree!
This day came to be known as JUNETEENTH.
Major General Gordon Granger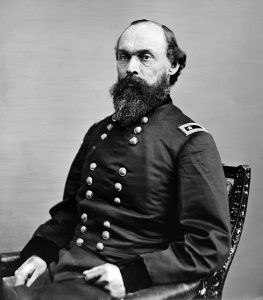 Juneteenth celebrations
On June 19, 1866, former enslaved people in Galveston, Texas, celebrated one year of freedom. The holiday was celebrated primarily in Texas until the 20th century, when the Civil Rights Movement brought renewed attention to its significance. Juneteenth has now been celebrated for over 155 years. 
Band performing at a Juneteenth celebration in Texas – 1900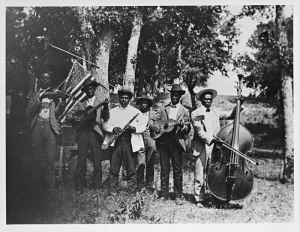 Juneteenth celebration in Richmond, VA – 1905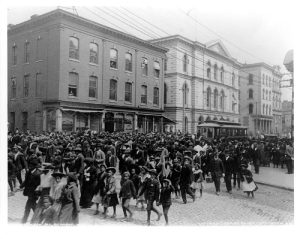 On June 17, 2021, President Joseph Biden signed the Juneteenth National Independence Day Act into law, making it a National Holiday.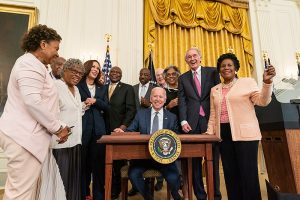 (Official White House Photo by Chandler West)
Where can you celebrate Juneteenth?
Juneteenth celebrations are held all across the nation, in cities both large and small. Many include parades, festivals, family gatherings, reunions and cookouts.  
Read U.S. News and World Report's article on the 13 best places to celebrate Juneteenth this year via this link.
Many great cities in the great state of  Illinois have some awesome celebrations planned.  View them HERE!
Chicago has SO many celebrations and events planned to commemorate this day.  See Choose Chicago's listing HERE.
For celebrations in Oak Park and nearby Western Suburbs (Forest Park, Bellwood, Maywood, Broadview, Hillside, Berwyn, and others, see HERE!
Fellowship Fleet Limousine and Bus Company
will gladly help you with your Juneteenth transportation needs, family gatherings, or for any other ground transportation services. Book your reservation
HERE
,  today!