On Thursday, November 23rd, Lincoln Park welcomes "turkeys" of all ages and paces…runners, joggers, and walkers. The 45th Annual Life Time Turkey Trot Chicago 5K & 8K and Plymouth Rock Ramble Kids race returns this Thanksgiving morning!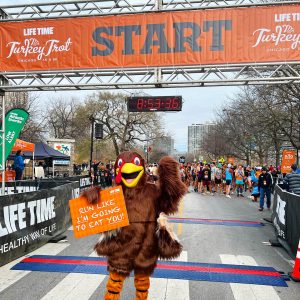 Centered around the Turkey Trot Tailgate, trotters will be able to enjoy pre- and post-race activities like Corn Hole, Football Toss, and more, while sipping on warm apple cider. This annual race will take place in beautiful Lincoln Park along the shores of Lake Michigan.  The Start Line, Finish Line, and Turkey Trot Tailgate are all centrally located along Cannon Drive, between Diversey and Fullerton Parkway.
It's more than just a way to "earn" your Thanksgiving day meal by getting some great exercise before enjoying your turkey with all the trimmings.  It's more than just a fun day, dressed up in the best turkey gear.  Each year, the Turkey Trot Chicago helps raise thousands of dollars for the 
Greater Chicago Food Depository
.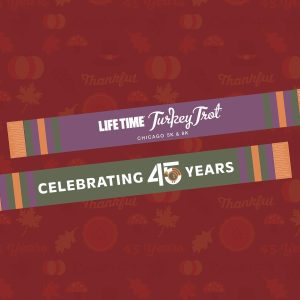 History of Turkey Trotting 
In 1896, Buffalo, N.Y. hosted the first-ever YMCA Turkey Trot, which is also known as the first official road race in the United States, even older than the Boston Marathon. Only six runners participated, and they ran five miles down dirt roads.  Only four of the participants finished the race.
In the 1900's the course was moved to pavement, but women did not compete until 1972.  The race has become a national historical event in cities all across the U.S., attracting people from all over the world. 
In 1963, the Mount Prospect Jaycees Turkey Trot was held, and is the oldest continually-running event in the Chicagoland area. The Dan Gibbon's Turkey Trot 5K began in 1984 in Elmhurst as a mission to stop hunger, and has raised over $3.5 million to date.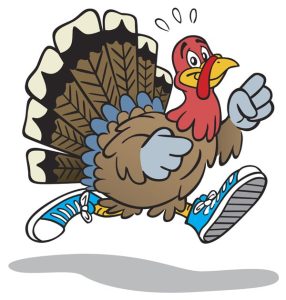 It's All About the Community!
According to the Turkey Trot Chicago, they believe it's more than just a race; they are committed to making a positive impact on our community and our planet. Here's how they are "stepping up their sustainability game: 
Leftover food that wasn't enjoyed during the event finds its way to Chicago-area charities, safe houses, and school volunteer groups. 
 Any discarded athlete clothing left in the start corrals prior to the start of the race is donated. 
 Any extra medals don't go to waste – they are donated to local charity groups and organizations, spreading the joy and achievement.
Food Drive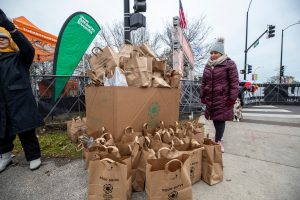 At packet pick up, participants receive a food drive bag from the Greater Chicago Food Depository, and are asked that the bag is filled with non-perishable food products to bring with them on race morning.
Click HERE for registration information, and for all you need to know about this year's Turkey Trot.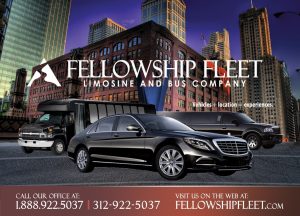 Fellowship Fleet Limousine and Bus Company is ready to take you and other trotters to this year's Turkey Trot.  Make your reservation TODAY,  HERE!